Bar Harbor is also famed for whale watching in the Frenchman's Bay and numerous spectacular walks and hikes nearby.
The Bar Island in front of the city is accessible by the Bar Island Land Bridge, a trail only visible when the Moon is in the correct position.
You can safely cross it 1.5 hours before and after low tide, but if you are stranded on the island, you'll have to wait 9 hours for your escape.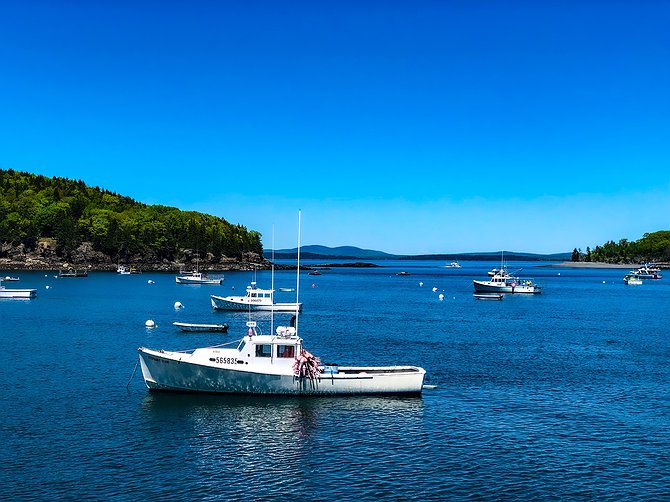 Considering how popular destination Bar Harbor is, it's not uncommon for the best hotels to be sold out six months prior.
So, what's the best base to explore all the beauty this region has to offer? Find out below.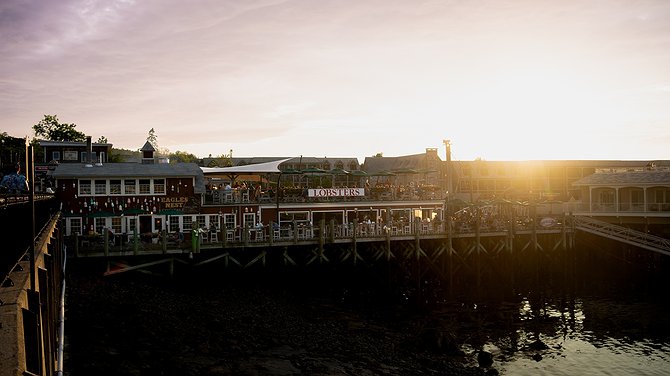 Bar Harbor Grand Hotel
This hotel is the 2003 replica of the former Rodick House built in 1895 - one of the most magnificent hotels of the late 19th century in Bar Harbor. Even the unique front porch was preserved from the original design, which is now one of the best spots to enjoy your morning coffee in one of the wooden rocking chairs.
Bar Harbor Grand Hotel is located on Bar Harbor's Main Street, a few blocks from the downtown's busiest area, full of the best bars and restaurants. If you are heading to see Maine's natural beauty, it's a 5-minute drive to Acadia National Park.
The spacious rooms and suites have a classic historic design, with gold-framed paintings on the walls, ornamental wallpapers, and traditional brass table lamps. Despite the appearance, modern amenities include free WiFi, high-definition TVs, and Keurig coffee machines.
Why should you book? -Unique architecture -Heated outdoor pool + jacuzzi -Complimentary continental breakfast -Unique front porch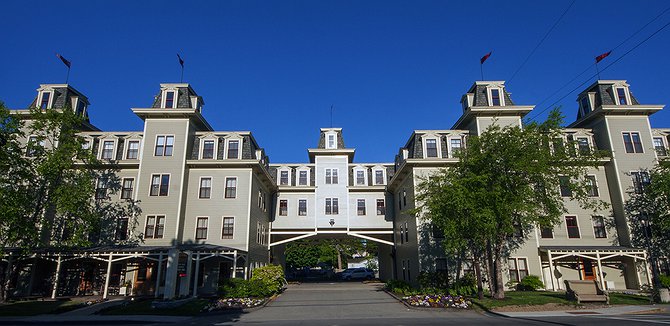 West Street Hotel
The luxurious seaside West Street Hotel is in a prime location steps away from the oceanside Agamont Park and the rocky Town Beach. Four pretty waterfront buildings were combined with an epic rooftop to create Bar Harbor's only luxury boutique hotel.
The interior's nautical-styled design reflects West Street Hotel's coastal setting.
The 85 posh rooms feature maritime colors and are fitted with mahogany wood furnishings, and the bathrooms have vintage freestanding bathtubs.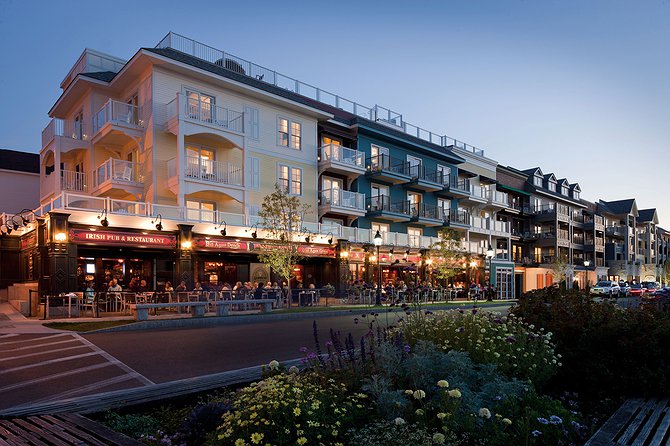 And how about the views? Incredible harbor/ocean panorama.
The street is packed with some of Bar Harbor's bar restaurants, but you can also dine at the hotel's Home to Paddy's Irish Pub & Restaurant.
Why should you book? -Panoramic rooftop pool with 360° view -Chic rooms -Downtown location -Exclusive access to the Bar Harbor Club
Harborside Hotel, Spa & Marina
Harborside Hotel's understated luxury on the beautiful coast of Maine makes it one of the top choices.
The 193 guest rooms and suites feature a white/marine blue scheme except for the white/green-colored Boathouse Suites. The marble bathrooms are standard, and some suites come with extras like gas fireplaces and balconies.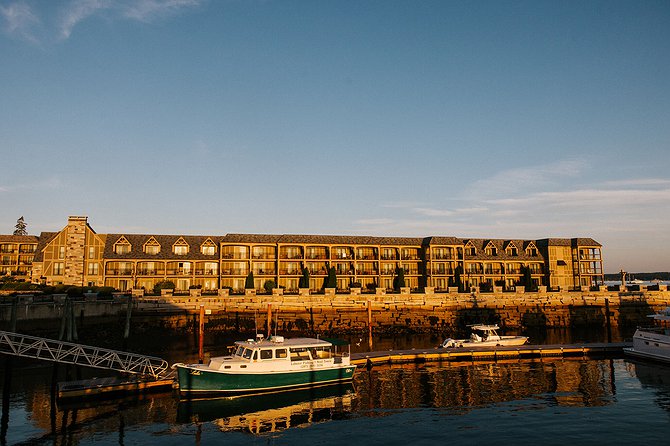 Although Bar Harbor offers plenty of options to eat out, staying on the premises of Harborside Hotel, you can indulge in traditional Italian cuisine, freshly caught seafood, and cocktails from the poolside Splash Pool Bar.
The hotel sits next to the Town Pier, where boats sail off in search of whales in the open ocean, and it's a short drive to the national park.
Why should you book? -Oceanfront/downtown location -180° harbor view outdoor pool + hot tub -Freshly renovated & stylish rooms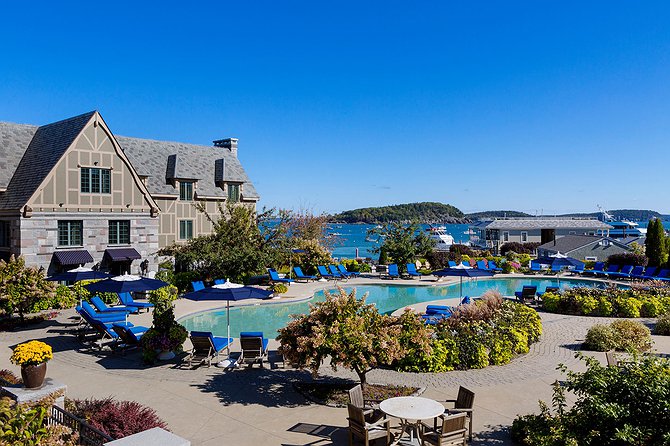 Little Fig Hotel
The Little Fig Hotel (formerly Quimby House Inn) is a quintessential Bar Harbor hotel in the best possible meaning of the term. Little Fig is housed in a classic cottage with a charming front porch dotted with beautiful red rocking chairs.
The recently renovated inn's room choices are queen, king, and superior suite in different variations, but all with unique charm and decorations. Our favorite is the handwoven octopus pillow!
The Little Fig Hotel is the perfect place to discover Bar Harbor on foot, as it's close to all its attractions, shops, and eateries.
-Downtown location -Charming front porch -Uniquely designed rooms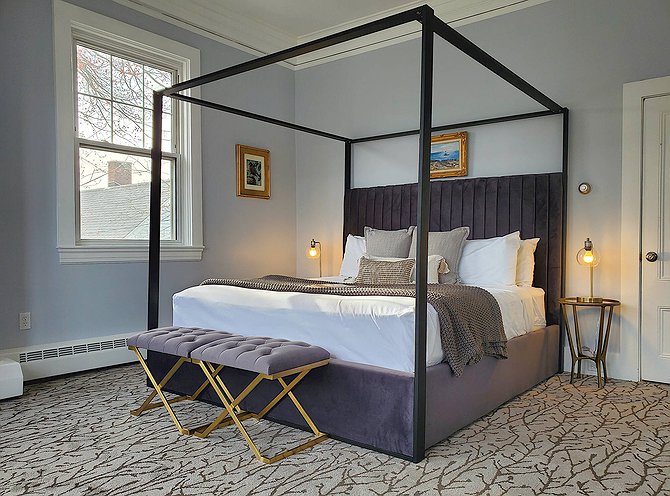 Bar Harbor Inn & Spa
This 3-star waterfront hotel spreads on an 8-acre private land consisting of the Main Inn, the Oceanfront Lodge, the Newport Building, and pretty lawns and gardens surrounding them.
One of the most iconic Mount Desert Island properties dates back to 1887 when it opened as Mount Desert Reading Room as the Oasis Club's clubhouse.
Architect William Ralph Emersondates designed the first building, and to have better access to it, a pier was built in 1902 for the wealthy who arrived on yachts.
Then, in 1950, an additional 40-room wing was constructed, which became the Hotel Bar Harbor and was extended by more accommodation in the coming decades.
The luxurious Harbor Inn Spa was opened in 2006, and the cherry on the cake, the glorious infinity edge pool with two hot tubs, joined the complex in 2019.
The inn's buildings are angled at 90 degrees, and from many of its rooms and the shoreline path, you get a vast panorama of the sea and the Bar and Porcupine (Burnt, Bald, Sheep) islands.
Why should you book? -Oceanfront/downtown location -Romantic four-poster bed bedrooms -Luxury spa -Heated waterfront infinity pool -Private pier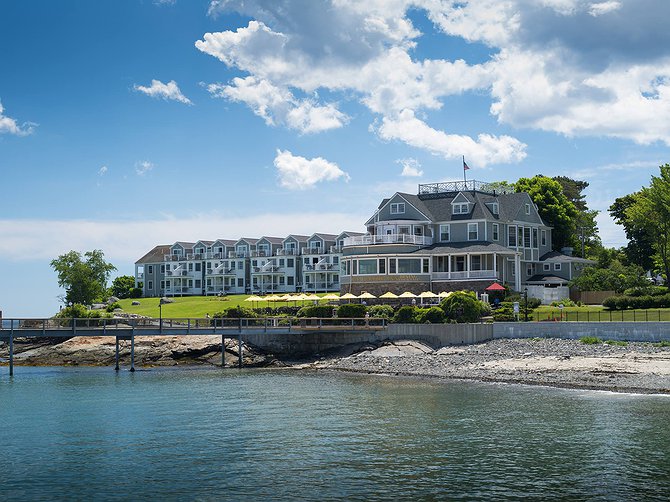 Balance Rock Inn
One of the best hotels in Bar Harbor is the Balance Rock Inn boutique hotel by the shores of the Atlantic Sea. It's right in the vibrant Village District, where you'll find most art galleries, restaurants, and bars.
During the 19th century, Bar Harbor attracted the rich and famous from all over the world, who ended up constructing grand summer houses for their annual getaways. This inn was one of them.
In 1903, the Scottish railroad tycoon Alexander Maitland built it for himself and his family along the rock shore path.
The wonderfully preserved building is now open to everyone. The inn has 27 beautifully renovated rooms with hand-crafted woodwork, coffered ceilings, arched doorways, and stained glass windows.
Why should you book? -Oceanfront/downtown location -Classic New England design -AAA Four Diamond rated -Oceanfront heated swimming pool -Intimate environment thanks to the low number of rooms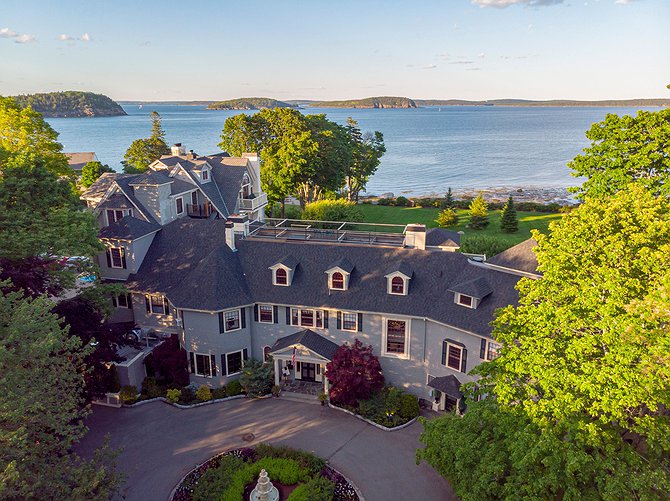 Atlantean Cottage
One of the highest-rated accommodations in Bar Harbor is a bread and breakfast stone-walled cottage. Atlantean's intimate environment is a refreshing change from the grand establishments with hundreds of rooms. Here, you will only find six rooms and two suites.
As you would expect from a boutique B&B, the individually named rooms (Wingwood, Elsinore, Talleyrand, Edgemere, Baymeath, Chatwold, Birchcroft, Rosserne) have a unique style and design.
Atlantean spoils its guests with bath products from Gilchrist & Soames and a hearty, freshly made breakfast free of charge.
Why should you book? -Downtown location -Intimate environment -Unique rooms -Free breakfast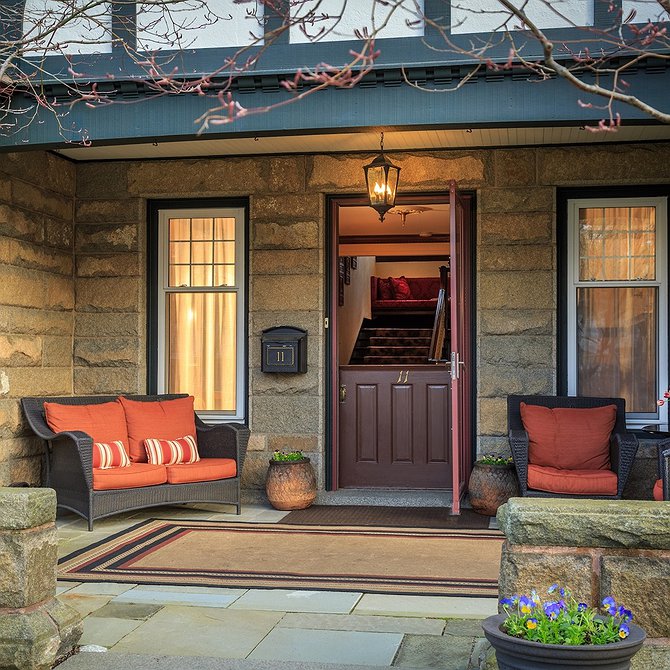 Bar Harbor Regency
The oceanfront Regency Hotel is about a mile north of Bar Harbor's downtown but steps away from the Acadia National Park.
If you are too lazy to get downtown, the resort has three on-site restaurants: La Bella Vita - Italian fine dining with a wine bar (Enoteca).
Stewman's Lobster Pound - oceanfront seafood restaurant with classics like mussels, homemade lobster bisque, and New England clam chowder.
And Tiki Bar is the poolside place to get a snack along with a Pińa Colada, Strawberry Daiquiri, or a Mojito.
The 280 luxurious rooms have partial or full Atlantic ocean views with Mt Desert Narrows in sight or a garden panorama. The top of the range is the Penthouse Suites, with a private deck with incredible views of the marina and offshore islands.
Why should you book? -Beautiful secluded oceanfront setting -Close to Acadia National Park -Outdoor pool by the ocean -Private pier -Oceanview rooms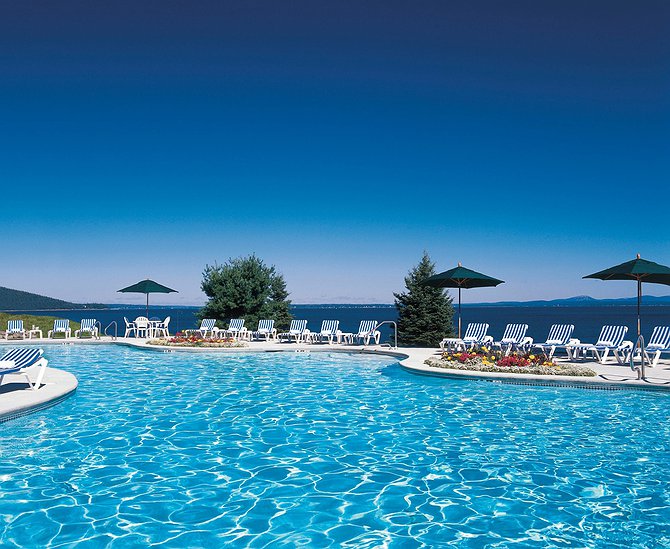 Atlantic Oceanside Hotel & Event Center
Bar Harbor Regency's southern neighbor's 3-star hotel is a vast complex of six waterfront buildings offering different types of accommodations. The Main Hotel, Atlantic View, The Willows, Seaview Cottage, Portside, and Oceanside are all part of the same hotel, and with this many options, it's easy to find the right fit.
The Main Hotel is also fitted with an indoor pool and hot tub for all guests to use.
Portside and Oceanside are the closest buildings to the water, so if you love listening to the calming waves and feeling the fresh ocean breeze, this is the right choice.
The Willows is the resort's historic estate built in 1913, with only 13 mansion-style suites and rooms. The royal interiors have vintage wallpapers, over-the-top four-poster beds, and luxurious fine linens.
Why should you book? -Oceanfront location -Indoor and outdoor swimming pools -Private pebble beach -Private pier -Lots of accommodations to choose from -Atlantic ocean view rooms with balconies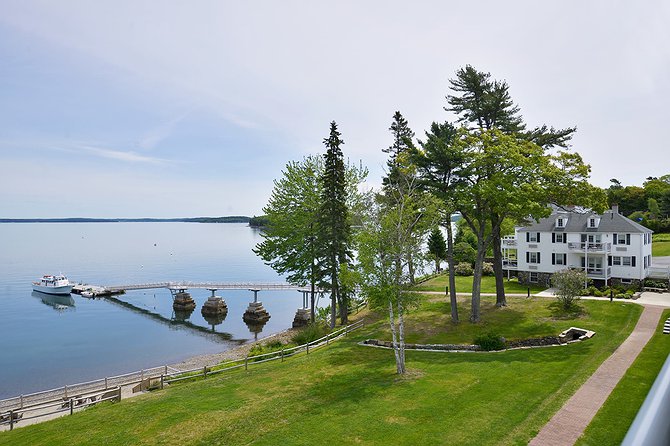 Queen Anne's Revenge Inn and Suites
Queen Anne's Revenge Inn's Victorian-style building from 1886 is in one of the quiet streets of Downtown Bar Harbor.
The historic establishment served as a summer getaway for the wealthy in the early 19th with five separate cottages. And today, it offers beautiful maritime-themed rooms.
The inn's nautical design was inspired by the legendary ship Queen Anne's Revenge. Captain Edward Teach led the intimidating yet gorgeous vessel that was the grandest during the 17th and 18th centuries.
Each room at the inn is unique, with paintings and wallpapers of ships and giant octopuses.
Why should you book? -Historic Victorian-style inn -Plush, maritime-themed rooms -Downtown location yet quiet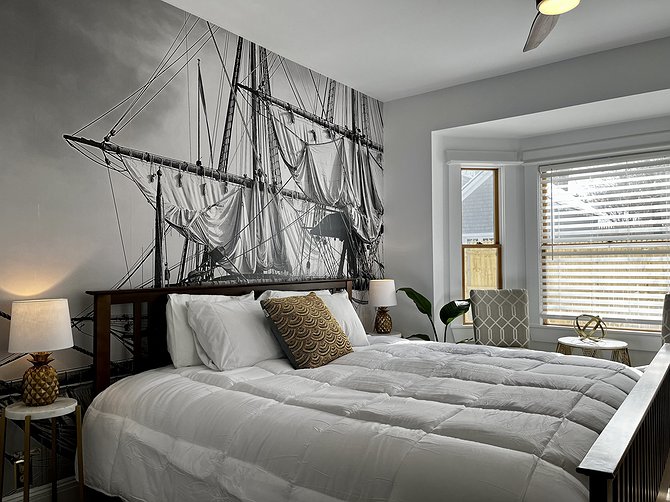 Atlantic Eyrie Lodge
This resort is a couple of blocks from the ocean shore, but thanks to its high location, it offers excellent views from all of its premises.
The 2-star hotel is minutes from the Acadia National Park and Bar Harbor's downtown, and if you want to get a drink and leave your car at the free parking, there is a shuttle to the downtown area.
The name "Eyrie" is a nod to the historic cottages built during the "Cottage Era", when the rich and influential all wanted a pretty holiday home close to nature in Bar Harbor.
The family-owned Atlantic Eyrie Lodge offers various rooms, suites, and a secluded three-bedroom historic cottage since 1955. The Eagles Perch Cottage, built in 1882, is perched on a hilltop with amazing mountain views of Acadia National Park.
Why should you book? -Complimentary hot breakfast -Outdoor saltwater pool with Atlantic Ocean panorama -Downtown within walking distance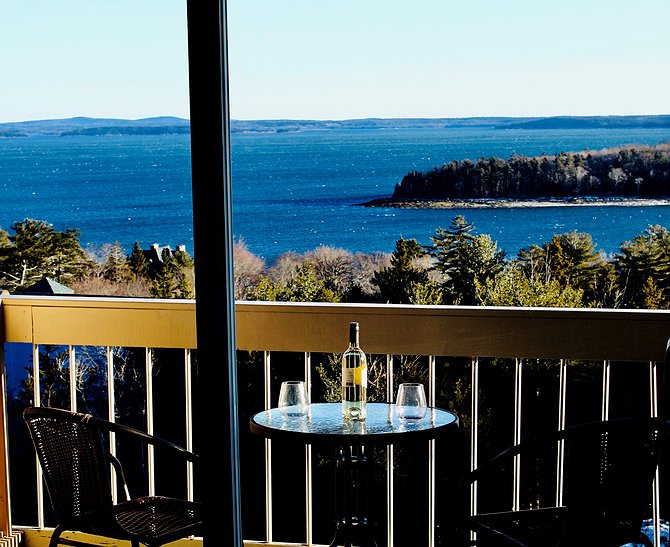 Bluenose Inn
The four-star Bluenose Inn's modern structure is built on top of the stonework of the original 1884 summer cottage by Mrs. William Morris Hunt.
The rooms are housed in two separate buildings, and under the roof of a third, you will find a modern fitness center, a large indoor pool, a hot tub, a sauna, and a steam room. There is also an outdoor swimming pool encircled by an array of pine trees.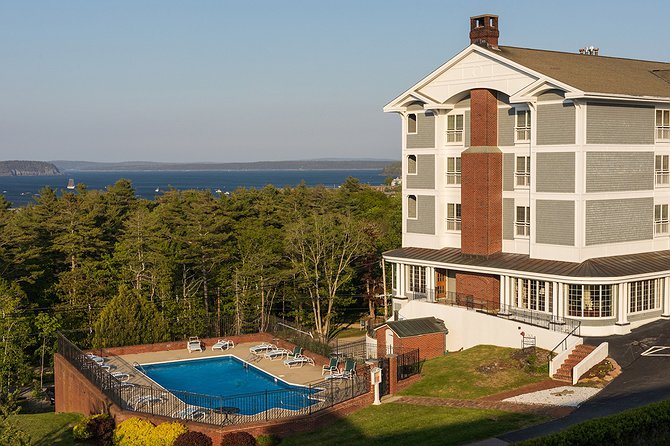 Bluenose Inn's best rooms are on the second, third, and fourth floors, with private balconies and beautiful bay views.
And if you get hungry, tasty breakfasts are served at The Looking Glass Restaurant in the Great Room building. There are indoor and outdoor seating with a fireplace and an incredible panorama of Acadia National Park and the Atlantic Ocean.
Why should you book? -AAA-rated hotel -Indoor and outdoor pools -Downtown within walking distance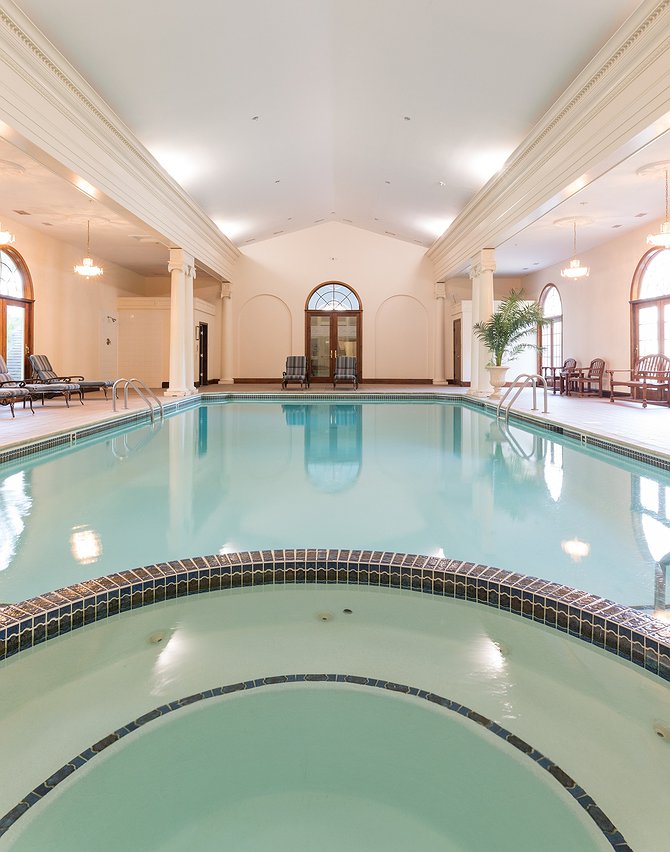 Salt Cottages & Hotel Rooms
The Salt Cottages resort is at the Frenchman Bay's coast near the Hulls Cove entrance to Acadia National Park and the vibrant downtown of Bar Harbor.
The freshly renovated oceanfront property features individual cottages and hotel accommodations with a centrally located outdoor pool and a terrain with a finely cut lawn.
So, it's like a high-class camping ground, with much of the benefits and no downsides apart from a higher price.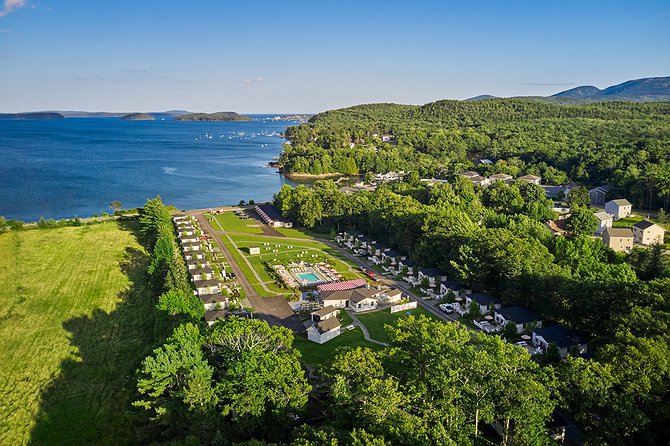 The chic and charming cottages are equipped for multi-day stays with a kitchenette, dining table, pullout sofa, and comfy Cuddledown bedding.
There is a bar called Picnic by the pool where you can buy snacks and treats, and the resort can prepare food for your hikes, cycling tours, or long walks along the coast.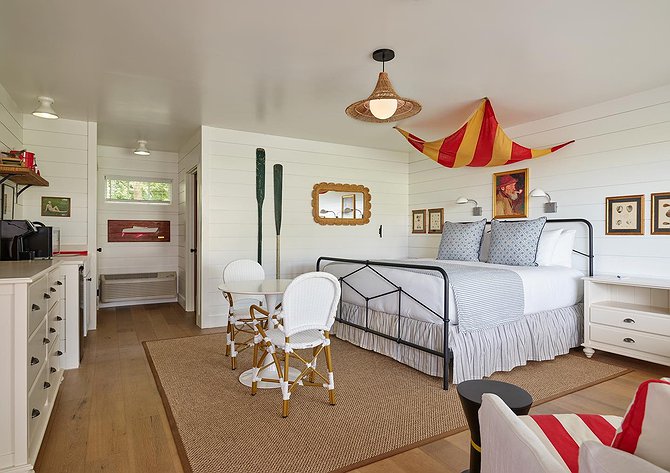 The on-site vintage game shed has a ping pong table, a miniature basketball, and some more fun stuff for rainy days.
Why should you book? -Chic oceanfront cottages -Heated outdoor pool + hot tubs -Close to downtown and the national park -Fun games + fire pits
Bass Cottage Inn
This 3-star boutique hotel is right in the heart of downtown Bar Harbor.
It's the perfect location if you want to be close to oyster bars, delicious breakfast places, cafés and restaurants. And it's a short walk from Village Green, Bar Harbor's urban park with a 17th-century tiered Italian fountain.
The Bass Cottage Inn was built in 1885 during the Bar Harbor's construction boom. In 2003, the building was saved from demolition by its new owner, and after a complete renovation, it opened to guests with rooms named after herbs. So, you can stay in a Lavender or Thyme room with matching styling to the plants.
Why should you book? -Downtown location -Historic charm -Themed rooms -Free breakfast